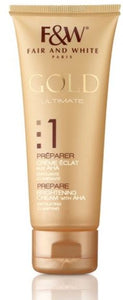 Fair and White 1: Prepare Gold AHA Brightening Cream Hydroquinone Free 75ml
FULL DESCRIPTION
1 Prepare Exfoliating and Clarifying
Description-Reveal skins radiance with this delicately fragranced moisturizing night cream. AHA Glycolic Acid allows for quick and efficient absorption of lightening and brightening actives into the skin, promoting a softer, brighter and more radiant complexion.
How to use-For a brighter, more radiant complexion, apply Brightening Cream to dry, cleansed skin preferably at night. Avoid eye area. (Applying cream to damp skin may cause an irritation so best if skin is dried well). Follow up with a minimum SPF 50 sunscreen daily to maintain even skin tone
Tip-Many consumers do not want to use lightening products with Hydroquinone hence Fair and White has provided this Hydroquinone Free AHA as a replacement for non hydroquinone users. After you have achieved your lightening results with more aggressive lightening ingridients, AHA?s should be used to maintain even toned results.
Caution-Glycolic Acid can make the skin sensitive to sunlight during the day, therefore it is not recommended for daytime use. If skin feels dry or irritated, apply Gold Rejuvenating Moisture Lotion.
Main Ingredient-Glycolic Acid
---
We Also Recommend
---