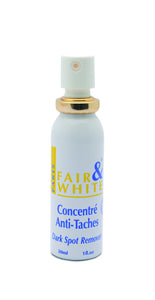 Fair and White Dark Spot Remover
A concentrated spot fader in a potent spray. Anti-spot remover diminishes dark spots restoring an even skin tone.
Directions: Spray spot fader carefully on affected areas on dry, cleansed skin, preferably at night. Let dry.
Recommendation: Follow up with SkinProtect SPF 50 Sunscreen daily during and after brightening treatment to maintain even skin tone
Skin type: All skin types
Main Ingredient: 1.9 % Hydroquinone
THE BEST
product does a tremendous job on my skin
Improper packaging
I do like the product; I've ordered it many times; however, my last order was not properly packed. It was simply thrown into a plastic bag, not properly secured and quite a bit of the liquid seeped out into the bag -- the product does not come with a cover so if not properly packed; the liquid will seep out. I have never had a problem like this before because it was always secured. Thank you.
---
We Also Recommend
---