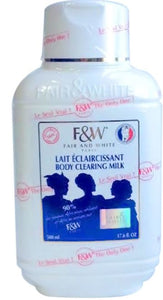 Fair and White Body Clearing Milk
Clarifying and moisturizing body lotion formulated to lighten dark areas of the body. Specifically developed to fade skin discoloration and even out skin tone. Reduces the appearance of dark spots caused by aging, repeated environmental exposure, hormonal fluctuations, and post acne scars.
Directions:Apply a thin layer of Body Clearing Milk lotion to affected areas on dry, cleansed skin, preferably at night.
Recommendation: Follow up with an SkinProtect SPF 50 Sunscreen daily during and after treatments to maintain Even skin tone.
Skin type: All skin types
Main Ingredient: 1.9 % Hydroquinone
Great quality, moderate pricing
This product is very original. I have been fortunate in locating this seller after several purchases from fake dealers.
I recommend this seller.
---
We Also Recommend
---